Indoor skydiving and vertical wind tunnels offer you the same experience of skydiving without actually jumping out of an airplane. This is fantastic for those of you and myself included who would love to skydive. But do not think that they could actually jump out of a moving plane so high in the sky.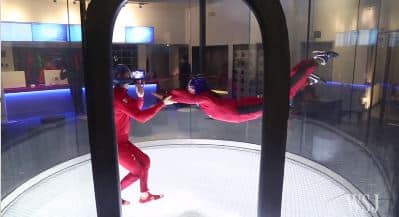 Frequently asked questions about indoor skydiving
Is indoor skydiving dangerous?
How much does indoor skydiving cost?
How much do you have to weigh?
Can you eat before you go indoor skydiving?
How does it work?
These sports were originally designed as a means to train pilots who were going to have to sky dive during the war should their planes be struck by enemy fire.
Today they offer thrill seekers and sports enthusiasts the opportunity to experience the same sensation that skydivers feel whenever they jump out of a plane.
This may also interest you: Cape Town Parachute Jumps
How Indoor Skydiving Works
If you are wondering how indoor skydiving and vertical wind tunnels work then here is a quick lesson for you.
Basically what happens is that there are massive fans which generate wind speeds of up to 120km per hour.
This allows the individual who is participating to move around as if they were falling through the sky without the actual falling part.
Is Indoor Skydiving Dangerous?
This sport is far safer than actual skydiving and this has lead to an increase in demand in this area. This phenomenon has taken off (pardon the pun) in countries all over the world. From the UK to the USA, and even countries such as the Czech Republic.
Now you may be wondering where in South Africa you can go and experience the thrill of indoor skydiving. Currently it appears that there are none.
However should you be going on a Eurpoean adventure, why not stop off in England. And visit the World's largest wind tunnel. The Vertical Wind Tunnel Skydive.
Have a look here: https://www.iflyworld.co.uk/
This power fan jump is probably the closest any normal person can get to the feeling of flying without actually jumping out of a plane 10 000ft above the ground.
The sensation of jumping into the wind tunnel is very similar to that of complete free fall. The first time you go in you'll be accompanied by an instructor. Who will show you how to control and hold your body so as to be able to maintain a stable position.
This is vital for free fall as if you do lose control you can fall into a total "spinout" and become severely disoriented.
This of course doesn't matter if you're in the wind tunnel because there's a safety net to catch you.
But if you've just jumped out of a plane and don't know which way you're facing or can't find the cable to release your shoot – well then you're in a bit of trouble.
It's best not to eat anything before doing any indoor skydiving.
Vertical Wind Tunnels
Indoor skydiving and vertical wind tunnels can be seen as hardcore training or as recreation. For specialist skydivers wanting to practice safety routines and/or formations indoor skydiving is a very easy way to do it. Because you avoid the cost of running an airplane for practice.
For those not brave enough or who can't afford the full on skydiving experience, vertical wind tunnels are a perfect compromise.
You get most of the sensation, some of the adrenalin, a much longer freefall and more room to try things out. You can also go a few times in one session.
Whereas with a proper skydive, there's the hassle of all the equipment. The lengthy flight up, and then just one jump and freefall.
Another common use of these vertical wind tunnels is that of equipment testing.
All good skydiving equipment is put through thorough tests in wind tunnels many times. Before it goes on sale for people to use it jumping out of an airplane.