About us at Skydive South Africa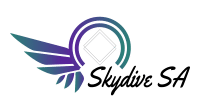 Skydiving in South Africa – The adrenaline, the rush, the excitement of dropping through the air over the mountains of the Western Cape or the fields around Gauteng. It really doesn't matter if you are a new beginner to the world of sky diving or if you are an expert with hundreds of drops under your belt, the thrill and freedom that goes with the sport is second to none!
This website is crammed with information on all you need to know about South African sky dives and SA skydiving clubs. Through a wide variety of informative information we aim to provide a "one-stop" portal online for anyone interested in this extreme and great sport.
We urge you to spend a few minutes before using this website to have a read of our Privacy Policy as well as our Terms and Conditions pages which will give you information of what is expected when you are using this website as well as how we protect your privacy and rights as a user.
Please feel free to have a good look around to find out more and should you feel the urge to get in touch at any time you are more than welcome to do so via the locations at which we can be reached on the Contact Page of this site.
Thank you for visiting and see you at the drop zone..!
Team Skydive South Africa