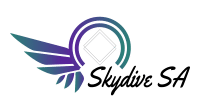 The following are a few simple answers to questions that are frequently asked by mostly beginners when it comes to the wonderful sport of skydiving in South Africa.
How quickly do you fall when skydiving?
This all depends on body weight, position, the clothes a person is wearing and the weather conditions. Once terminal velocity is reached, the average skydiver falls at a speed of roughly 200 kilometres per hour.
Can Women skydive?
Of course, both men and women have been skydiving since the sport was born.
Is skydiving safe?
There have been very few accidents in recent years and although there are risks involved, the instruction and courses given to beginners are advanced and of a high level.
What are the costs involved?
Prices for skydiving are determined by a number of factors. For the beginner, tandem jumps are the most affordable. Current prices and group packages can be organised by most South African skydiving clubs as well as the odd specials and promotional deals.
How old do you have to be to be able to skydive?
At least 18 years old. Parents are not allowed to sign for any person under the age of 18 years. On the other hand, you're never too old to skydive, it's a great way to celebrate your 90th Birthday!
What does skydiving feel like?
That's a question we cannot possibly answer! Try it for yourself!