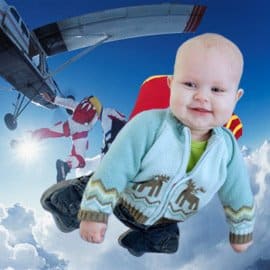 If you are considering learning to skydive then there are over about 10 Skydiving clubs in South Africa and approximately 20 operators in South Africa that offer all types of jumps including parachute jumps for beginners. Many people have realised that there is more to South Africa than the city life and night time attractions and have taken their gazes upwards to the sky. This means that there is an increasing demand for beginners' classes and skydiving schools. However, the only downfall is that this is an expensive sport so before you shell out a lot of your hard earned cash, you should try a tandem jump.
A tandem jump is when a student jumps from a plane while strapped to an instructor and is best for parachute jumps for beginners. You will then fall until the instructor pulls the parachute cord. These tandem jumps vary in price and can cost anything between R1200 and R2000 depending on where you go. This is a great way for those of you who have never done it before and think you may be interested in the sport to experience it. And what is best is that the instructor will control the entire scenario, from the actual jumping out of the plane, to free-falling, pulling the parachute cord and landing.
What is more is that tandem skydiving does not require extensive training, but rather involves a 10 minute class and then you jump. Therefore this means that you can enjoy the experience fully with minimal training. It really is that simple. If you are looking for somewhere to try out this extreme sport in Johannesburg then there are number of places that provide tandem jumps and beginner classes such as Go Skydive SA and Icarus Skydiving School. If you live in the Western Cape then you can visit African Skies and Cape Extreme. What is more is that there are schools all over South Africa where you can do parachute jumps for beginners.